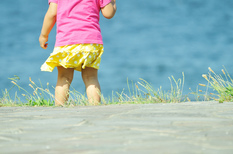 Here are some ideas for activities to practice your child's speech & language skills over the upcoming summer months:

For School-Aged Children:
(1) Talk about the vocabulary related to any trips or vacations that you are going on (e.g., Where are you going? What kinds of things will you see there?). Take a lot of pictures on your trip to capture all of the events that take place. If your child is working on articulation skills for a specific sound, you can try to take pictures of all of the objects that you find with that sound in it. Upon returning from your trip, print the pictures and have your child help you organize them into an album by putting them in the correct order in which they occurred on your trip. The album can then act as your child's own personal vacation "story book." Have your child use the pictures to re-tell the events that took place on your trip, using appropriate vocabulary, grammatically correct sentences, and/or the speech sound(s) that he/she is practicing.
(2) Go on "speech scavenger hunts." You don't have to be on vacation to search for objects with your child's speech sound(s). Search for objects at the park, on a hike, at the beach, or even in your own backyard. Let your child make a special "treasure chest" using an old tissue box or shoe box and collect the objects inside. You can take the objects out each day and practice saying their names.

For Toddlers & Preschoolers:
(1) If your child has a sand table that he/she enjoys playing with, you can bury various objects/toys in the sand that are related to vocab or speech sound(s) that your child is working on (e.g., If your child is working on "s" blends you can hide things like a toy spider, a toy snake, and a spoon). You can use a water table or rice table for the same activity.
(2) Blow bubbles outside. Practice making requests and modeling language such as "up," "down," "pop," "open," etc.
(3) Check out story times and children's programs at your local library. When possible, borrow the books that are read during story time to allow your child to explore them at home as well. Children often benefit from repeated exposure in order to learn new vocabulary and concepts in stories.