Testimonials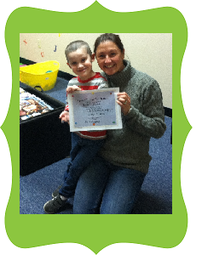 "I have had my twins at Let's Talk since March of 2013. My daughter worked with Miss Amy and it was an wonderful experience for both my daughter and myself. She just "graduated" in January and I was completely blown away with her progress. My son works with Miss Lindsey and he has come such a long way and I owe it all to her. My son truly enjoys going to "play" with Miss Lindsey and that is exactly what they do. What I am impressed with during this whole process is how the SLPs incorporate their "lessons" into what interests the kids have, rainbow loom and Teenage Mutant Ninja Turtles are the favorite for my twins. What I also love about Let's Talk is the constant communication. The SLPs take the time to meet with you after every session to let you know how your child is doing. They truly care about each and every child and it shows. Thanks "Let's Talk" for all you have done for my children and even easing my worries as a parent. You have made this process educational and enjoyable for all." -Nicole R.

"My husband and I have been so impressed with Laura Bartus! Ethan works with a lot of different providers and individuals between school, daycare, ABA workers and OT's, and he LOVES Laura! It often feels like we are dragging him from one provider to the next, but when it comes to his two weekly speech sessions (after a very long day) he's SO excited to see Laura and literally goes running into her office. As parents, that just warms our hearts so much! And its evident that she genuinely cares for our Ethan-not to mention the progress we've seen since he started with Let's Talk back in the summer." -L.S.

"I have such high praise for Amy at Let's Talk Speech! [My son] is doing so well under her guidance. Great energy and [my son] really likes Amy! Thank you for all your help!" -S.S., mother of a 3-year old boy.

"If you are looking for a speech therapist, you could not do better than Miss Amy or Miss Lindsey. They are both caring and effective. My son is happy and excited to go to speech again." -Susan

"My daughter's expressive and receptive language has greatly improved since working with Amy from "Let's Talk." I believe the sessions have been so successful because Amy is consistently assessing my daughter, and designing lessons based on her specific language needs. Amy always makes sure the lessons are engaging by planning activities and games that interest my daughter. My daughter looks forward to her sessions with Amy and enjoys learning. She has been transformed from a child who had about five words at the age of two to a four year old, who never stops talking. I am beyond thrilled!!!!" -Sheila

"Lindsey Doyle has been my son's speech therapist for 2 years. We have had nothing but wonderful progress with Garret since he's been working with Lindsey. Garret loved spending time with her, looked forward to his visits and his speech improved tenfold because of her hard work and dedication. Lindsey made it fun for Garret, had a close relationship with him and in turn, he trusted her and wanted to participate and learn with her. Garret is outgoing, has a full vocabulary and is now blossoming in pre-school. Let's Talk Speech, in my opinion, is the best choice for any child in need of specialty services. If either of my children need services in the future, Let's Talk Speech is where they will go. No question." -Tina

"Our son started speech therapy with Amanda just a few short months ago and the progress he has made is amazing! When he first started he struggled to communicate anything he was thinking or feeling - now he is speaking in complete sentences, expressing his thoughts and emotions, using correct pronouns, asking questions, I could go on and on! Amanda genuinely cares about our son and wants him to succeed, which makes all the difference in the world! I highly recommend Let's Talk!" -Katie

"I am so grateful to Lindsey and Amy for this amazing, fun, energetic practice they have created! Lets talk has been a part of our weekly activities for the past six months. My daughter has grown leaps and bounds. She has gone from a very quiet, reserved little girl to now being called chatty! And I love it! My daughter has a wonderful bond with Lindsey, her weekly playtime is always eagerly anticipated! Not only has Lindsey helped my little girl, but she's also given me strategies and ideas on what I can do to help my daughter express herself! Lets talk has very positively influenced our lives. We are so glad we're part of it!" -R.P., mother of a 6-year old girl.

"My son had been making very slow progress with his speech for the past six years. He was at the point of not wanting to try anymore... and then someone recommended us to Let's Talk. Lindsey from Let's Talk has a way of connecting with kids based on their interests and by making speech fun AND she really knows what she is doing and is good at it. As parents we get lots of good information including what and how to practice at home for carryover. My son now looks forward to going to speech to see what "game" will be ready for him to play. My only regret is that I did not find Let's Talk sooner." -S.P.

"Thank you for all of your hard work with [my daughter]! She enjoys going to speech and I think that's a testament to how child friendly you are! In our family, getting our kiddos to an "appointment" is no easy feat, but [my daughter] goes happily every Tuesday to Let's Talk!" -J.C.

"If anyone is in need of speech services for their child I cannot say enough about this place. Grayson has been seeing Amy for over a year and we have seen such great results. I'm a little biased having my kid on the cover of the website, but all kidding aside they truly are awesome!" -P.P.



---